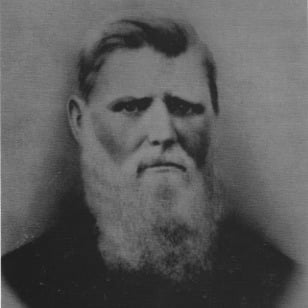 The John McAdams family arrived in Texas in the early 1830's, settling first in the Nacogdoches area of the Shelby municipality, near the "neutral ground" between the United States and Mexico. After outlaws attacked the homes of McAdams and his neighbors, the families gathered their remaining possessions and left the area, settling in what is now Walker County. McAdams served for three months in the regular army of Texas in the summer and fall of 1836. In 1838 he married Hester White. 
 McAdams became a rancher, planter, and land speculator, and later owned and operated a family cotton gin and sawmill. His home was east of the present location of the McAdams Cemetery and the community that grew up around the family was named McAdams.
Families of the area increased in size and number and through the years the McAdams Community was well known. McAdams was anxious for all the children of the community to receive an education and he donated lumber and labor the for the building of the Wolf Hill School located half a mile from Liberty Springs.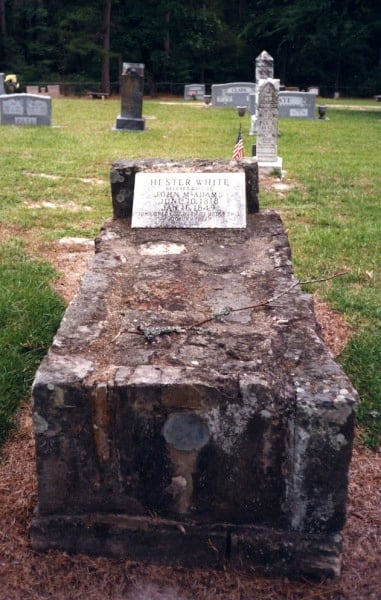 In 1849, Hester (White) McAdams died of pneumonia. Before her death she told her husband, "John, when I die, bury me under this hickory tree." This inscription appears on her tombstone which was the first grave in the cemetery and was the beginning of the McAdams Cemetery used by friends and relatives of the community. The second burial, which took place soon thereafter, was that of John McAdams' sister, Polly McAdams Price. Others interred here include John McAdams; his second wife, Mary Frances (Bankhead) (d. 1905); and many friends, relatives, and neighbors of the family. 
Upon McAdams' death in 1892, five acres of his estate were reserved for the cemetery. Additional gifts of land have increased the acreage to nearly 13 acres. Since 1937, the graves have been maintained by the McAdams Cemetery Association.
This historic cemetery stands as a reminder of the contributions of an early Walker County family.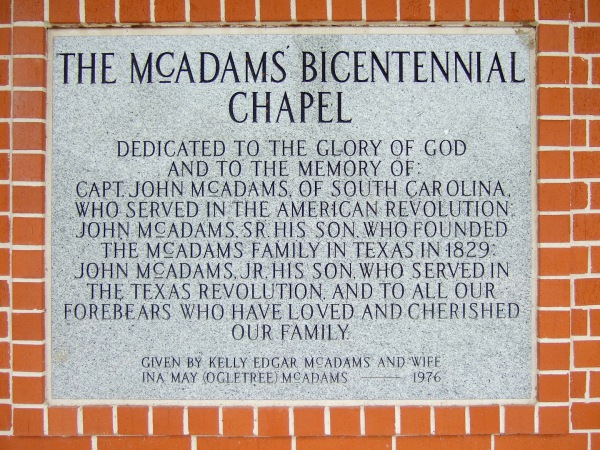 The McAdams Bicentennial Chapel is a red brick Colonial structure that was built and donated to the McAdams Cemetery Association by Kelly Edgar McAdams and his wife Ina May Ogletree McAdams in November 1976. The original chapel structure was destroyed by fire in March 2002. The chapel was rebuilt using the original floorplan including a main sanctuary; a large reception/family room in the rear complete with furnished kitchen, rest rooms, a robe room, and entrance foyer. The new chapel was dedicated in November 2003.
The chapel is available for weddings and other events. Use of the chapel is mainly granted to McAdams descendants however exceptions are occasionally made to individuals and groups. Please contact the MCA at
[email protected]
or go to the "
Contact
" page on this website if interested.